Although Autumn is just around the corner, the sweltering summer heat is still beating down upon our heads. Want a refreshing treat to beat the heat? Passion fruit tea is your best bet!
Read on to learn more about this classic drink!
Why passion fruit?
With its distinctive sweet yet tangy flavour, and striking orangey hues, passion fruit syrup can lend any drink a tropical flair. What's more, if you pick the pulped variant, both the fruit pulp and seeds add extra texture and crunchiness to the drink!
No matter how tiring everyday life is, one sip of this drink can transport you to a summer paradise – palm trees, shimmering seas and glittering sands galore! Why not brew up a pint, sit back and enjoy a moment of vacation bliss?
Make it your own!
What makes fruit tea so great is the sheer variety of combinations you can make.
Feel like enhancing your passion fruit tea even further? Try mixing it with other fruit-flavoured syrups:
Mango syrup lends an extra sweetness to balance out passion fruit's tanginess, while pineapple or orange syrups are perfect for sour-lovers!
Even something as simple as changing tea bases can make a difference. Our recipe suggests green tea, but feel free to swap it with black tea for a stronger, richer brew. Not a fan of black tea's bitterness? Try oolong tea for the right balance!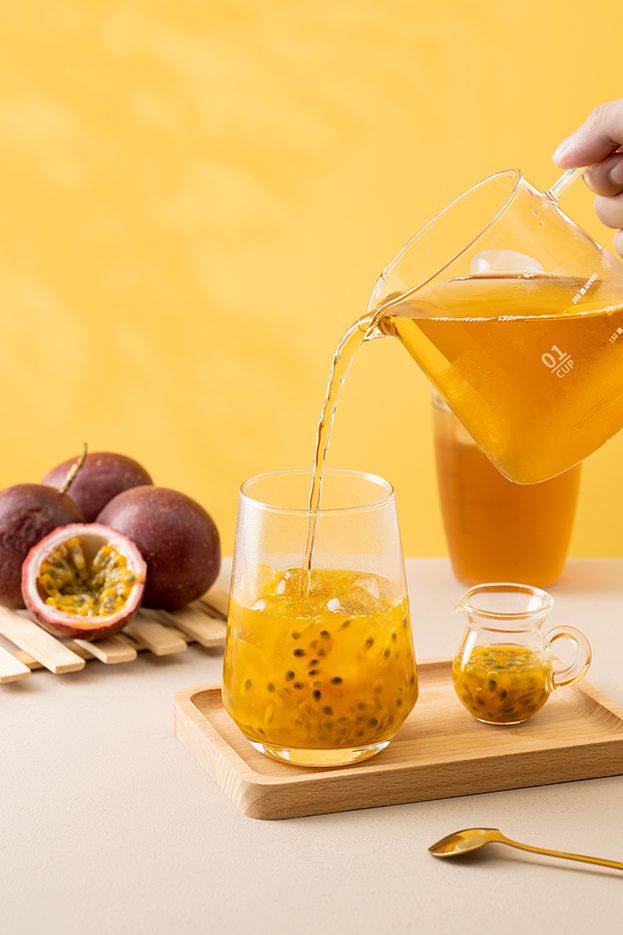 How to make: Passion fruit tea
Take a glimpse of a tropical paradise with this classic summer drink!
What you'll need
– 2x Green tea teabags
– 200cc Hot water
– 30g Passion fruit syrup (with pulp)
– 100cc fructose syrup
– Ice cubes
How to make
Step 1
Add the passion fruit syrup and 60cc fructose to a bowl. Mix and set aside
Step 2
Place teabags in jug and add 200cc hot water, stir then brew for 4 minutes
Step 3
Fill shaker with ice cubes (around 80% full), then pour in the brewed tea. Add 40cc fructose, and 60cc mixed syrup from Step 1.
Step 4
Shake to mix, add your favourite toppings and enjoy!
Need some help picking your toppings? Here's our suggestions: